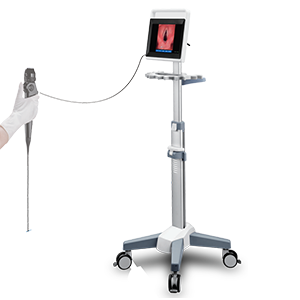 Main Features
Superior image quality
Optimised Cmos provides image of high sharpness.
Portable recording system
image capturing and management as well as video recording can be accessed by this all-in-one portable device.
Optional mobile trolly
The well-designes trolley with monitor facilitates your examination and observation.
Larger monitor, better view
The10''monitor brings the visual revolution, offering detaild and clear observation.
Multiple Disinfection Methods
Optical system

Field of view Direction of view

Depth of field

Outer diameter

90°

Forward viewing 3-50mm

2.8mm/3.8mm

lnsertion section
Angulation range
U180°/ D130°
Bending section
lnsertion section
330mm
Working Length
lmaging resolution
400*400
Display part
Display resolustion
1280*800