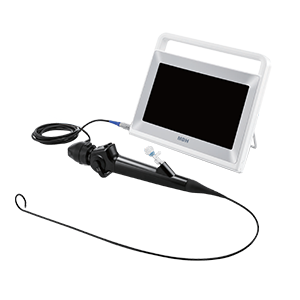 Main Features
Easy access to the kidney
With a 9.5 Fr insertion sheath and 275°up/down angulation, which greatly helps the scope to be inserted into the entire renal collecting system.
Superior Portable all-in-one system
With CMOS technology, integrated LED illumination and 10.1" monitor, providing it with a level of mobility that allows it be used almost anywhere, anytime
Optional connection to an external monitor
For enhanced overview, the portable 10.1" monitor with a HDMI port to meet your needs.
Larger monitor, better view
The10''monitor brings the visual revolution, offering detaild and clear observation.
U41 Specification
Optical system

Field of view

Direction of view

Depth of field

90°

0°

2.8mm/3.8mm

lnsertion Tube

Insertion tube outer diameter

Working length

9.5Fr(3.2mm)

680mm

Instrument channel
Inner channel diameter
3.6Fr(1.2mm)
Bending section

Angulation range

Up 275°

Down 275°

Display

Resolution

Type

Storage

1280*800

10.1" color TFT LCD

capacity 64GB

Working Length
lmaging resolution
400*400
Display part
Display resolustion
1280*800